EIZO RadiForce RX350, New ultra-narrow slim bezel 3-Megapixel Diagnostic Monitor now available in North America
CYPRESS, Calif. – February 16, 2016 – EIZO Inc. is pleased to announce that the RadiForce RX350, a 21.3-inch ultra-narrow slim bezel, 3-megapixel diagnostic monitor received FDA 510(k) clearance for general radiography and will be available for shipping in the United States in March.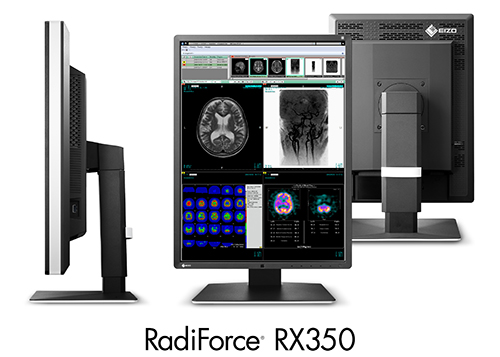 EIZO's latest diagnostic grade 3MP display, the RX350 has a new innovative space-saving design
30 percent less footprint with an ultra-narrow slim bezel with approximately 50 percent eye movement reduction in a dual monitor configuration for maximizing productivity.
Using the DisplayPort 1.2 daisy-chain connection, one can now drive multiple monitors with a single video cable connection. This innovation provides greater benefits such as simplified workstation/video card configurations, ease of installation and maintenance, adding greater reliability as well as reduced TCO.
The RadiForce RX350 is also equipped with EIZO's unique Sharpness Recovery technology, a unique algorithm that restores the lost or degraded detail of original image source, resulting in an image shown with maximum clarity.
Prior to shipping, on-site product demonstrations are available to test drive EIZO's newest and innovative diagnostic monitor. To schedule an on-site demonstration with an EIZO product specialist, submit demo request online, or Call (800) 800-5202 ext. 220
Product Information
About EIZO
EIZO (TSE:6737), which means image in Japanese, is a visual technology company that develops and manufactures high-end display solutions. EIZO integrates hardware and software technologies with consulting, web hosting, and other services to help customers in business, graphics, gaming, medicine, maritime, air traffic control, and other fields work more comfortably, efficiently, and creatively. For more information, please visit http://www.eizo.com/company/
Media Contact:
Annie N. Rivera, M.A.
Marketing and Public Relations Specialist
(800) 800-5202 x140 | annie.rivera@eizo.com
All product names are trademarks or registered trademarks of their respective companies. EIZO and RadiForce are registered trademarks of EIZO Corporation.