Color Management Resources
Adorable Kitties on an EIZO ColorEdge: A Professional Monitor Great for Everyone
This is a translation from Japanese of an article published by AKIBA PC Hotline! on July 24, 2019. All rights reserved.
Detailed Reproduction of Lights, Darks, and Skin Tones: ColorEdge CS2410
Text by Baron Nukome (Baron Kitty-Eyes)
 
I am a cat lover. Call me Baron Nukome (Baron Kitty-Eyes). My daily routine consists of looking at cute cat photos when I'm tired from work. My editor walked by today as I was relaxing, looking at photos of my cat, Hana-chan.
Editor: Hey, I've heard cats look really cute on an EIZO ColorEdge monitor.

Baron Nukome: Huh? (What's this guy talking about? Even someone unfamiliar with monitors like me has heard of EIZO's ColorEdge. It's their high-class series aimed at creators. They are costly at 4 figures or more. I'm sure the quality is great but who's going to spend that much just to look at cats, no matter how much you like them?)

Editor: Cute pets look even cuter on a nice monitor!

Baron Nukome: But they're expensive, right?

Editor: You'd think that, wouldn't you? But actually, they put out a model called ColorEdge CS2410 that you can get for a comparatively good price.

Baron Nukome: !!! There has to be a catch. (Sounds more affordable than I expected...)

Editor: The price is reasonable, but the ColorEdge quality is still there. The colors are adjusted on each monitor at the factory, so the color reproduction is perfect. The gradation is so detailed that those adorable, pleading eyes pull you right in! ColorEdge also maintains consistent brightness and color reproduction, so the fur looks super fluffy.

Baron Nukome: Adorable AND super fluffy!?

Editor: If cute pictures make you happy, you should have beautiful screen to show them on. You want to try it out?

Baron Nukome: YAASS!

 


The ColorEdge CS2410 color management monitor – I heard this monitor brings out the fluff in cute kitties, so I gave it a try.

 
Experience the Ultimate Cat Photos!
Highly Recommended for People with Pets
| | | |
| --- | --- | --- |
| Super fluffy… huge, glistening eyes…I can't wait! Let's see what this monitor can do with my cat photos. The first words out of my mouth when I tried out the ColorEdge CS2410 were, "Oh, my gosh! How adorable!" This monitor instantly took my breath away. The ColorEdge CS2410 really is a monitor that makes good things look even better. |   | One of the photos I used. Let's see what the monitor can do with my favorite cats! |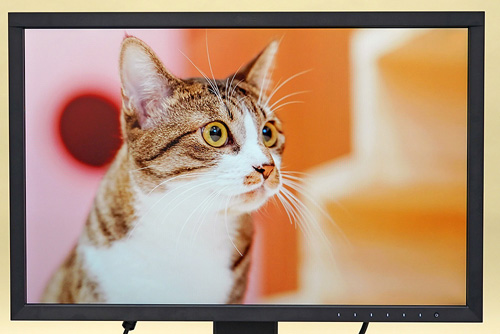 So cuuute... From her lovely, round eyes, fluffy fur, and pointed whiskers, set against a background of pinks and yellows – every feature is flawlessly reproduced by the CS2410 exactly how I see them with my own eyes!
| | | |
| --- | --- | --- |
| How can I say no to that face? Hana-chan's glistening eyes…That charming look… I can't take my eyes away! . And those gentle, soft paws? Irresistible! |   | Awwwww, Hana-chan's furry back. The CS2410 perfectly reproduces smooth gradation of color and displays the white in the background so crisply. She's… just… so… fluffyyyyyy! |
| | | |
| --- | --- | --- |
| I can even see the feathery hair in her ears. Oh, and that face! Hana-chan loves to play. Is she going to be naughty again? |   | Her squishy little toe beans under those fuzzy paws… I just love them. |
| | | |
| --- | --- | --- |
| Her favorite spot. I wonder what she's thinking. I can almost feel her presence just by looking at her on the monitor. |   | Hana-chan looks happy to be snuggled. Her soft expressions are captured perfectly! |
Hana-chan the cat helped me out this time, but cats are not the only ones that look great on the monitor. It also brings out the adorable good qualities in other animals, including dogs, birds, and rabbits.

Seeing their mesmerizing eyes, the soft patterns in their fur, and other features so naturally – the CS2410 expresses this better than a regular LCD. You may not see such dramatic changes in processed images that are vivid and exaggerated, but photos of animals on the ColorEdge CS2410 certainly look natural and pleasant.

People who have pets often take photos of them, and if you want to see them in an even more adorable light, I highly recommend this monitor. ColorEdge CS2410 will absolutely make you want to go hug your pet.

 

Special thanks: Adoptable Rescued Cats Café Chiyoda Nyanto Naru Café (external link: Japanese)
This café opened as part of a renovated Japanese inn. It is driven by the theme "enjoying an old Japanese-style house with cats."
Why Do Photos Look Nice on the ColorEdge CS2410?
The Key is Excellent Color Reproduction and Smooth Gradation!
The high level of color reproduction and the accurate tone control of the ColorEdge CS2410 makes photos look so good. Color gamut is one of the performance indicators for monitors, and the ColorEdge CS2410 covers the entire sRGB color gamut, which is standard for online content. Within the range of sRGB content, the colors intended by the creator can be reproduced accurately. The sRGB color gamut is not as broad as other standards such as Adobe RGB or DCI-P3, but most online content is created based on sRGB, so if you have the sRGB color gamut, the picture will look fairly nice. In addition, your monitor displays practically perfect straight out of the box because EIZO calibrates the color and contrast for all RGB tones on each monitor before it leaves the factory. So, you will always get beautiful gradations.
| | | |
| --- | --- | --- |
| The ColorEdge CS2410 covers 100% of the sRGB color gamut, the standard for online content. Colors are calibrated on each monitor at the factory prior to shipping, making sure it reproduces colors exactly as intended by creators. |   | Display resolution is 1920 x 1200 pixels. EIZO's proprietary digital uniformity equalizer technology thoroughly ensures consistent brightness and color on the screen. |

EIZO's proprietary digital uniformity equalizer technology also takes an important role in maintaining consistent brightness and color across the screen. Moreover, the fact that the ColorEdge CS2410 uses an IPS panel that has minimal color variation at different viewing angles and has anti-glare display that minimizes reflections is another reason it can express images so beautifully. Another advantage of the anti-glare display is that it prevents eye fatigue after extended viewing.
| | | |
| --- | --- | --- |
| The minimal color variation at different viewing angles as well as high contrast and brightness are features of the IPS panel that ensure beautiful image reproduction. |   | Another advantage is the anti-glare display. Unlike glossy displays, it minimizes reflection and helps prevent eye fatigue caused by extended viewing. |
| | | |
| --- | --- | --- |
| There are three input terminals: DisplayPort, HDMI, and DVI-D. The pivoting function allows the monitor to be positioned vertically so that you can also comfortably view portrait photos. |   | You can switch inputs and change display modes easily using the electrostatic switches on the front. |
Properly Reproduce Subtle Gradations in Skin Tones:
People Also Look More Attractive on ColorEdge CS2410
| | | |
| --- | --- | --- |
| Cats are extremely cute on the ColorEdge CS2410. So, I decided to check how it fairs for people using photographs of one of my favorite models. When I saw the photographs, I was entranced by what was on the screen. I thought, "Incredible! Such attractive photos." |   | One of the photos I used. Cat photos were extremely cute, so I checked photos of people too. |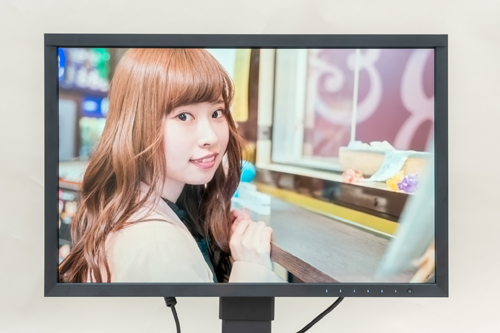 So beautiful! The details in her silky hair, her gleaming eyes, her radiant skin...everything is reproduced perfectly!
| | | |
| --- | --- | --- |
| Photographs of people are often taken vertically, so being able to pivot the monitor so that the photo fills the screen is a nice feature. The detail in her silky hair really is mesmerizing! |   | This one is also vertical. The light from the crane game creates highlights and gradation across her skin, depicted beautifully on the screen. |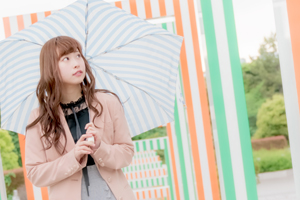 Model: Mitsu Usami. Goes by "Aria" in idol group Nekonotsudoi and also works as a freelance model as well as a hair and makeup artist.
Twitter: @usamimitsu


Now let's look at some promotional models from event venues. The monitor also reproduces the environment wonderfully! As a side note, always ask for permission first before taking pictures of models. They also appreciate it if you give them details about how the photo will be used and where it will be posted.
| | | |
| --- | --- | --- |
| This photo is of a promotional model at COMPUTEX TAIPEI 2019. The smooth gradations in her long, silky hair really come through. |   | This model has radiant skin. The natural texture is depicted nicely. |
| | | |
| --- | --- | --- |
| The bright pink dresses these models are wearing are reproduced effortlessly in their true color. |   | Those who enjoy photography use equipment and techniques to take beautifully toned and tinted photographs even at events where the lighting is not ideal. The CS2410 faithfully reproduces that hard work. |

I think it's fairly obvious from the above examples that the ColorEdge CS2410 truly brings out the attractiveness of your subject. This excellent reproduction applies the same for photos of any subject – including children and male models. Whether you want to experience joy in viewing moments captured with your children or appreciate the beauty and artistry of a professional model, I recommend ColorEdge as human subjects present quite beautifully and naturally.

 
Hardware Calibration Means More Accurate Colors:
Illustrations and Manga Look Original!
Another great point about the ColorEdge CS2410 is that is employs hardware calibration. Colors are calibrated on each monitor prior to shipment, so they have a high level of color reproduction as is. Nevertheless, monitors do change over the years, so regular calibration is required to keep them in top condition.
| | | |
| --- | --- | --- |
| With a special calibration sensor (sold separately), accurate color calibration can be performed without sacrificing gradation. |   | ColorNavigator, a free calibration tool for ColorEdge is also available which allows anyone to easily perform calibration simply by following the instructions on the screen. |

Using commercial calibration software, you can calibrate to adjust the colors on any monitor, but this method only adjusts the output from the computer (GPU), so you lose some gradation on the monitor. With hardware calibration, however, you calibrate the colors directly in the monitor, so nothing is lost. This is the major difference. If you are engaging in professional creation, it is far better to have an environment that supports hardware calibration. That way you can make high-precision adjustments in a short period of time. I recommend it hands down.

For hardware calibration on the ColorEdge CS2410, you would use a separately sold calibration sensor and ColorNavigator 7, a free calibration tool. Configuration is easy. All you do is follow the instructions in ColorNavigator.
| | | |
| --- | --- | --- |
| I also used free images from Sozai Good [external link: Japanese] to displaying illustrations on the monitor. This site offers Japanese-style illustrative designs with a lot of color gradations like those you might find on a Japanese folding screen. They are quite beautiful. |   | This is one of the free wallpapers available on RESTA [external link: Japanese]. Anime-style pictures and manga are reproduced exactly as intended by the creators. It's a luxurious experience to enjoy quality on par with the original works. |

ColorEdge features offer significant benefits to users that enjoy looking at content, but there are also great advantages for creators, including those who are serious about photography or those who create illustrations and computer graphics.

In fact, many professional illustrators do creative work on monitors that support hardware calibration, and if the users who enjoy that work have monitors of their own that support hardware calibration, they can enjoy the illustrations with the colors and gradation the creators intended. In other words, if you look at illustrations on the ColorEdge CS2410, in a sense it's almost as if you were looking at the original work.

 
Experience the Beauty of the CS2410
As you've seen, the ColorEdge CS2410 is the perfect monitor for viewing. Both cats and people look great, and the gradation in fur or hair comes through brilliantly, really drawing you in. There's also peace of mind in knowing that you're viewing works in the exact colors that the creators intended. It's best to perform calibration based on your usage environment, but each monitor is calibrated at the factory, so the color reproduction is very good as is. That means that anyone can enjoy looking at their favorite content right away. And the best part is the reasonable price. EIZO also offers a calibration sensor, monitor hood, and other accessories.

ColorEdge is well-known amongst professionals, but this is a model that allows anyone to fully enjoy works created by those professionals. So, if you're someone who finds pleasure in viewing professional images, you should definitely give it a try. As you might expect, many users are those who enjoy photography specifically, but there are also those who bought the monitor for appreciating art. Many have high praise for the high level of color reproduction and reliable color matching.