Corporate Social Responsibility
Global Mindset
Promise 3: Operating as an International Corporation
While respecting the human rights and promoting a mutual understanding of different cultures, our Group companies and distributors in various countries maintain strong mutual relationships to support customers worldwide.
Business with a Global Outlook and Mindset
EIZO products are sold in more than 90 countries and regions worldwide by a network of Group companies and distributors.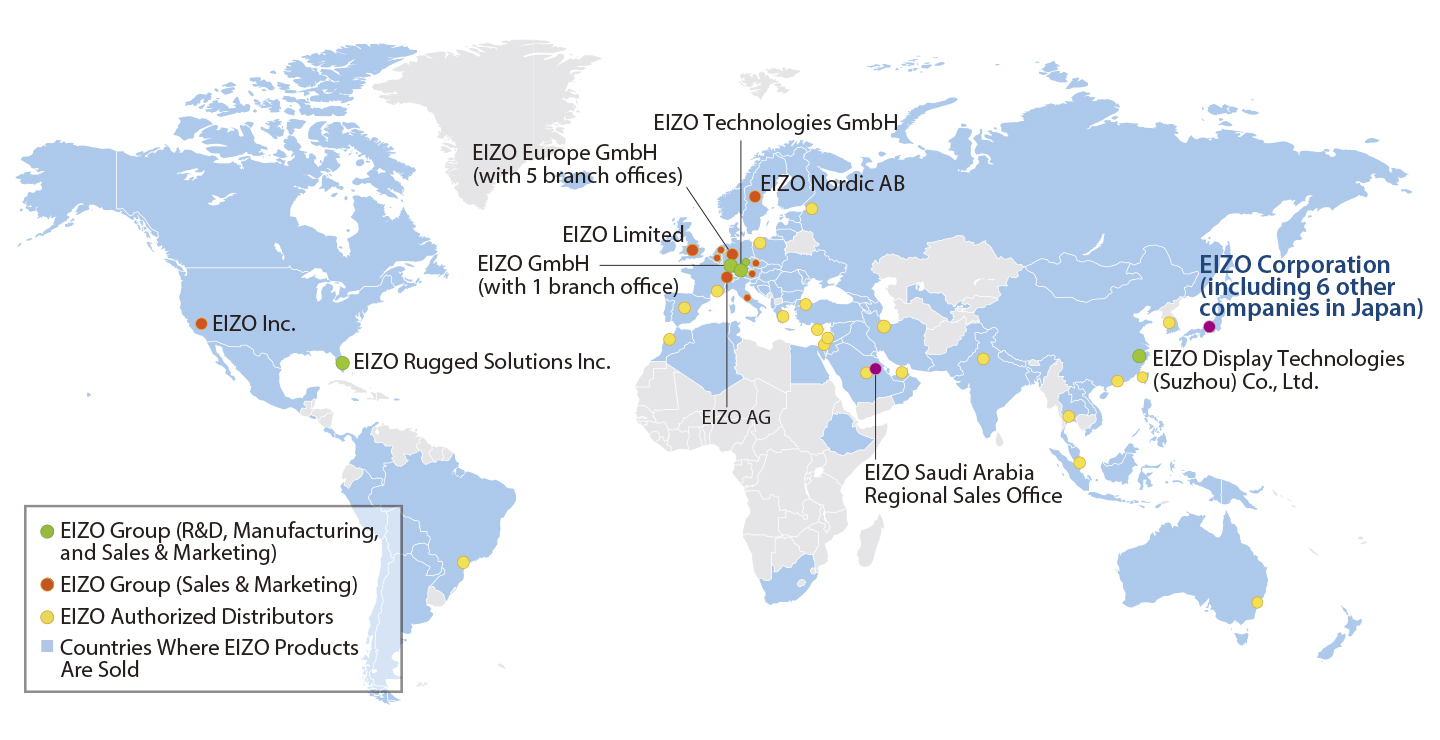 Sales Network
From the very beginning of selling proprietary products outside Japan, we have adopted a one country/territory, one distributor system, in which a single distributor (or Group company) is responsible for all sales within a given country or territory. This unique system enables us to accurately discern customer needs in each country or territory by distributors or Group companies that fully understand the culture and values of their respective regions and provide optimal products. It also allows us to offer products through sales methods that are appropriate for each country or territory.

However, custmers in specific market such as healthcare, graphics and V&S (Vertical & Specific) demand direct, ongoing communication with the manufacturer as well as solid global support. To effectively respond to these specific market environments and diversified sales channels, we have sales subsidiaries in the United States, United Kingdom, Germany, Switzerland and Sweden. We strive to achieve further business growth in Europe by reinforcing regional sales in North America and Europe. Furthermore, to expand our sales activities into emerging markets, where our specialized markets are expected to grow, we have employed local sales staff in Saudi Arabia, the U.A.E. and India and are enhancing our approach to customers.

 
100% In-house Development & Production
The EIZO Group has three production sites in Japan, Germany, the United States and China, forming a network that maintains a coherent development and production system throughout the Group. This enables us to apply stringent quality control from development to production, promote the creation of development synergies that maximize the strengths of each base, and construct an optimal production system for each market and customer. In addition, we promptly share information obtained in the course of development and production along with opinions and requests obtained from markets and customers to incorporate into product development and customer support.




Responsible Minerals Procurement (Conflict Minerals Issue)
Approach to Responsible Minerals Policy
Concerns are rising with regard to mineral resources, which are significant as raw materials used in IT and electronic components. In conflict-affected and high-risk areas including the Democratic Republic of Congo (DRC) and adjoining countries, the mining of such minerals may result in funds for groups that engage in conflicts and illegal acts such as the violation of human rights including forced labor and child labor, environmental destruction, and money laundering. Accordingly, the use of these minerals could promote the activities of such groups.

Tantalum, tin, tungsten, and gold.


Based on our view that it is our social responsibility to take this issue into consideration, the EIZO Group aims at procuring minerals from sources with no involvement in conflicts or illegal acts (i.e., to procure conflict-free minerals) for use in our products.

To realize this goal, we conduct surveys on our entire supply chain and check the survey results to ensure that specific minerals (the four mineral resources (tantalum, tin, tungsten, and gold) defined as conflict minerals by the U.S. Dodd-Frank Act, and cobalt) are procured from sources that have no relation with illegal activities. If we discover that a source may have a relation with illegal activities, we will take corrective actions.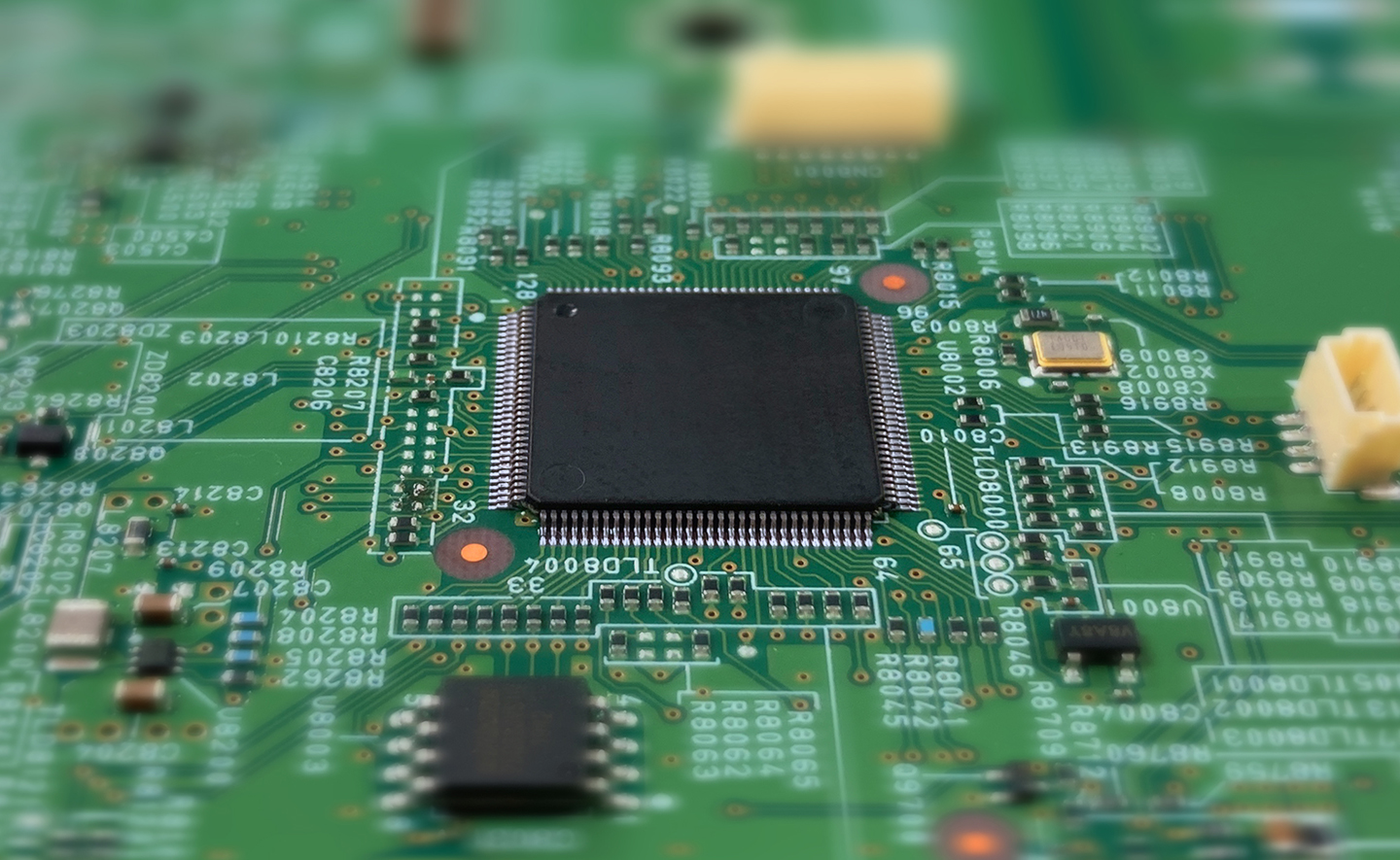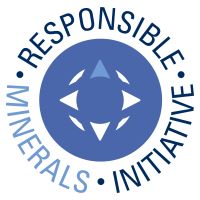 Furthermore, we participate in the Responsible Minerals Initiative (RMI) and continuously support responsible minerals procurement from conflict-affected and high-risk areas.
The Due Diligence Process
We disclose our Responsible Minerals Policy on our website and demand that our entire supply chain makes effort to use only conflict-free materials in components for our products.

Furthermore, targeting our entire supply chain, we annually conduct a country of origin survey regarding the specific minerals using the RMI's Conflict Minerals Reporting Template (CMRT) and Cobalt Reporting Template (CRT) to check if any minerals procurement may have a relation with illegal activities.

When the responses from the supply chain members include smelters that are not conformant with the Responsible Minerals Assurance Process (RMAP) standards, we demand that the relevant member conducts a further detailed survey and/or an RMAP audit or consider procurement from other RMAP conformant smelters.



 
2019 Survey Results
In the conflict minerals survey, we collected more than 90% of the answers. This survey identified 319 smelters, and confirmed that 82% (264) of them were RMAP smelters. In addition, no information was found regarding involvement in illegal activities in mineral procurement.

In the cobalt survey, we collected more than 80% of the answers, even though this was the first survey using an official CRT. Through this survey, we obtained information on 61 smelters and confirmed that they include RMAP smelters. In addition, no information was found regarding involvement in illegal activities in mineral procurement. [Smelter List]
Future Activities
In 2020, we will continue to work on due diligence activities to further identify smelters and improve the rate of mineral procurement from RMAP smelters. Collaborating with our suppliers and industry organizations, we will continue to strive to realize our goal to use only conflict-free materials.